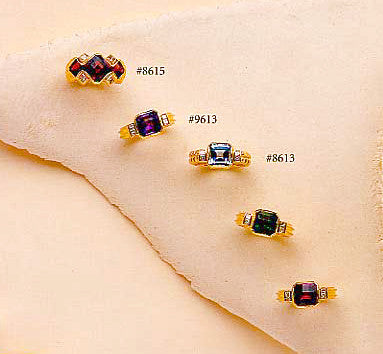 Signature Gold & Checkerboard Cut Gemstone Rings
$ 1,800.00
Fluted or pillowed 18K gold bands carry uniquely cut checkerboard gems of Amethyst, Rhodolite Garnet, Blue Topaz, Green Tourmaline and Citrine (not shown) in these signature rings.  Available in white or yellow gold.  Diamond accents vary according to style.  Let us know which of these interests you and we will quote current pricing.  Price shown here is the starting price. 
3-stone ring #8615
Single stone ring fluted band #9613
Single stone ring pillowed band #8613. 
Related Products